I admit it. I am a Mary Jane Mucklestone fan. I first met her at KnitEast here in New Brunswick Canada. I took stranded colour course and was blown away by the quality of her class and her wonderful, fun personality. I then took another of her courses at Vogue Knitting Live New York and had a blast. During break time, Mary Jane had mentioned she was thrilled to be doing an 18 day knitting cruise as an instructor for Craft Cruises in August 2014. They'd be sailing to some of my favourite knitting hotspots: Iceland, Shetland, Faroe Islands. Plus, to some of my "bucket list" must- visit-before-I-get-too-old places were on the list. Like Greenland. Iceland. Newfoundland. So guess what I did? Yup. Signed up, at the risk of looking like a super-stocker fan.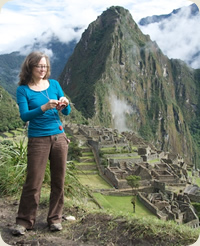 image Copywrited CraftCruises
But OH MY GOODNESS, what fun!
Okay, this trip was really a trip of a lifetime. I did have to think hard on this one because it was a) so very expensive. b) I've never cruised before. c) I've never been outside of North America before. d) I was doing it all by myself 'cos love ones and friends were like, "Whaaa? A knitting cruise? Boring!" (I tried to bribe Mom, a.k.a. Gram, to come with delicious yarn we would buy, but she is deathly afraid of water. She'd rather lounge looking fabulous in her leopard print bathing suit beside the pool than get in. I kid you not.)
Above it the Ms Eurodam, the pride of the HollandAmerica fleet, my cruise ship. Huge, huh? I was verryy happy to hear this was a big ship because the cruise I selected was an 18 day trans-Atlantic cruise. Like as in open seas. Like as in thoughts of plowing our way through huge, terrifying waves. In the open seas.
So, here is a map of our "ports of call." Pardon my shrinking the Atlantic ocean! LOL
My CraftCruises trip leader was Kim Schneilbolk, and I could not have asked for a more organized, fun, and caring trip leader. She worked tirelessly the whole trip making sure all us knitters were happy and in the know of any unexpected glitches. I witnessed this first hand because I had the best luck of being her cabin mate! I adore Kim, and I will be watching for future cruises she will be heading in the future.
So, our itinerary looked like this: Classes with MaryJane are highlighted.
Copenhagen, August 26, 2014
2pm-5pm Walking tour departing from the Strand Hotel and ending at the fab yarn shop Sommerflugen for a Trunk Show from 5pm-7pm with hand knitwear designer Bente Geil. Her designs are so beautiful!
Day 0: August 27, 2014
Port of Copenhagen, Denmark. Depart at 4pm
Day 1: August 28, 2014
At Sea
Aug 28, 2014 from 9:00 AM – 12:00 Noon …Two Color Knitting: Let's Begin!
Aug 28, 2014 from 2:00 PM – 5:00 PM… Scandinavian Stitch Patterns: Color and Texture
Day 2: August 29, 2014
Port of Bergen, Norway. Arrive at 8am, depart at 5pm
The Oleana Factory Tour. I didn't go on this one. Rented a bike and toured the local yarn shops!
Day3: August 30, 2014
Port of Lerwick, Shetland Islands. Arrive at 8am, depart at 7pm.
An exciting tour of Shetland Museum. Cathy Hallett hosts the group on the Textile Treasures Tour, a special event that lasts approx 45min. Due to the amount of knitters wanting to go, it had to be broken down into groups: Here is mine…
0830A – Free time to shop and explore – can meet in Ocean Bar and walk to town
1030A – Arrive Jamieson for 30 minute tour and 30 minutes to shop –
1130A – Walk to the Shetland Museum. A rigorous 15 minute walk with time to spare (shopping, restroom etc) 1200N – Enjoy tour of Shetland Museum for 45 minute then from 1245P until sailing free time. Super exited about this tour!!!
Day 4: August 31, 2014
Port of Torshavn, Faroe Islands. Arrive at 10am, depart at 5pm.
Tour of Navia Shop and Mill. Again, due to the vast amount of knitters wanting to go, it was split into groups on a tight schedule.

Day 5: September 1, 2014
At Sea
Sep 1, 2014 from 9:00 AM – 5:00 PM w/ break for lunch
Color in Traditional Fair Isle Knitting This one I attended! So much fun!
Day 6: September 2, 2014
Port of Reykjavik, Iceland. Arrive at 8am.
Álafoss Factory Shop tour. Alafoss is the factory outlet for Lopi wool and is the site of the original mill. A 15-20 drive from Reykjavik. We had a private tour and an onsite traditional Icelandic lunch and of course, time to shop!
Day 7: September 3, 2014
Port of Reykjavik, Iceland. Ship departs at 6pm.
Free day to run around and shop.
Day 8: September 4, 2014
At Sea.
Day 9: September 5, 2014
Cruising Prince Christian Sund.
Day 10: September 6, 2014
Port of Nanortalik, Greenland. Arrive 8am, departs 6pm.
Nanortalik means "Place of Polar Bears." Wander and enjoy the scenery.
Cruising Julianehabsfiord.
Day 11: September 7, 2014
Port of Qaqortoq, Greenland. Arrive at 7am, departs at 2pm.
Wander and enjoy the locals and scenery.
Day 12: September 8, 2014
At Sea.
Sep 8, 2014 from 9:00 AM – 5:00 PM w/ break for lunch
Shawls of the North Atlantic I attended this one too. LOVED it!!
Day 13: September 9, 2014
Port of St. Anthony, Newfoundland, Canada. Arrive at 8am, departs at 3pm.
Wander and enjoy the locals and scenery.
Day 14: September 10, 2014
Port of St. John's, Newfoundland, Canada. Arrive at 12noon, departs at 8pm.
Wander and enjoy the locals and scenery. Visit Wool Trends and other little wool shops.
Day 15: September 11, 2014
At Sea.
Sep 11, 2014 from 9:00 AM – 12:00 noon… Icelandic Lopapeysa
Sep 11, 2014 from 2:00 PM – 5:00 PM… Mittens of the North Atlantic
Day 16: September 12, 2014
Port of Halifax, Nova Scotia, Canada. Arrive at 8am, departs at 4pm.
Visiting the Fleece Artist in her home studio and shop. Visit Lucy Neatby at Trandwinds Knits, her home studio and shop.
Day 17: September 13, 2014
At Sea.
Sep 13, 2014 from 9:00 AM – 12:00 Noon… A Morning with Mary Jane Mucklestone
Day 18: September 14, 2014
Port of New York, New York, United States. Arrive at 7am. Leave ship!
Looks like fun, huh? And it was, EXCEPT for some… unexpected challenges. More about that later.
This being my first time to Europe, I wanted to have a few days before the cruise to take in Copenhagen. I flew from Halifax International Airport on Iceland Air to Reykjavik International Airport, had a brief layover and then Iceland Air to Copenhagen. By the way, Iceland Air is awesome. So much better than the flights I've had on Air Canada and United Airlines. The stewardesses looked like they were wearing chic Parisian outfits instead of uniforms. Hair and makeup was stunning. And one of them was wearing at least 4 inch heels! They take beauty to the extreme!
It was hard saying goodbye to Canada and to Tim Hortons (my favourite coffee shop), but I had one last iced green tea and was ready to leave. I was so very tired in this pic. No makeup, no sleep for the past 24hrs. Nervous, I guess.
Stay tuned for my next post on Copenhagen, Denmark!